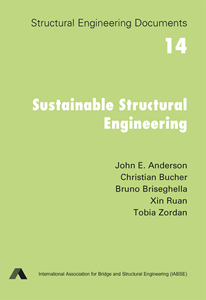 IABSE's Working Commission 7 presents SED14 'Sustainable Structural Engineering' report. This is the result of both several years' new work and also compilation of best practice in sustainability. With the strength of its worldwide membership, some twenty experts from Austria, Australia, Denmark, Germany, Italy, Japan, Portugal, Thailand, UK and USA have written this authoritative report on sustainability. It is geared to both to novices to the field of sustainability and also those with years of experience. Whilst intended as a study book it includes many figures, graphs and photographs to simplify its readability. This comprehensive study includes useful cross-references to over 400 other papers and reports.
The report considers the following aspects: Safety and Sustainability - the Structural Engineer's Role, Integration Concept of Sustainable Engineering, A Sustainable Approach to Structural Design, Sustainability and Cultural Heritage Buildings, Measuring Sustainability and Life-Cycle Assessment, Asset Management, Sustainability and Bridges, Sustainability through Disaster Risk Reduction, Green Materials for Concrete Production.
A wide gamut of sustainability aspects are dealt with over the ten chapters covering: 1. Environmental impact, accountability and regulations; 2. Planning, reduction in energy consumption; 3. Designing sustainably with structural efficiency, aesthetics, adaptability; 4. Conservation of cultural heritage by rehabilitation, social, environmental and economic impacts; 5. Life-cycle assessment and comparison studies, green design rating systems; 6. Asset management and whole-life costing; 7. Sustainability of bridges and some example projects; 8. Structure reassessment for extending life of bridge including model calibration; structural health monitoring and use of sensors; 9. Disaster limit state and achievement of greater sustainability to minimise rebuild and retrofit after disaster; and 10. How to make concrete more sustainable and recycling possibilities.
This Report is freely available to IABSE members as a download in pdf format and is available for non-members for 20 Swiss Francs as pdf download and 70 Swiss Francs as hard copy.
Visit: http://www.iabse.org/IABSE/IABSE/publications/Bulletins/SED/SED14.aspx
(inserido em 2017-09-25)